Project Overview: One of CareerBuilder's biggest industry events is the Society of Human Resource Management Annual Conference, bringing together over 11,000 HR professionals from around the globe. This year's event was in New Orleans, and once again, CareerBuilder drew inspiration from the host city for the booth design. Fashioned in the style of a French Quarter building, the 2,300-square-foot exhibit had everything from cobblestone-street-style flooring to a traditional second-story balcony, giving it an authentic and eye-catching feel to capture the interest of passersby. Designers integrated The Big Easy theme into brand messaging as well, with kitschy slogans such as "The Crawdaddy of All Talent Supplies" adorning the booth.
Combining form and function, the exhibit design allowed CareerBuilder to create a crowd-catching booth while putting the brand front and center. The 40-by-50-foot main floor boasted 16 strategically placed product workstations (housed in double-sided kiosks) and a small presentation area with ottoman seating. On the 10-by-30-foot upper level, a cozy, café-style setting provided the perfect atmosphere for private conversations, in addition to some extra storage space.
By building up instead of out, CareerBuilder cut costs from the previous year by needing less space on the show floor, saving an estimated $75,000 compared to the previous year's exhibit. In essence, CareerBuilder's second floor provided the company with 300 square feet of additional functional booth space, on top of the 2,000 square feet of floor space it rented from SHRM show management.
Client: CareerBuilder
Audience: Employers
Distribution Channels: Direct mail, email, trade show booth, social media, video, microsite
Project Role: Concept development, creative direction, content strategy, distribution strategy, on-site blogger
Awards: 2010 BMA Gold Tower Award for Direct Mail – Single printed mailing piece
 and 2010 BMA Gold Tower Award for Exhibitions/Trade Shows – Trade Show Marketing Program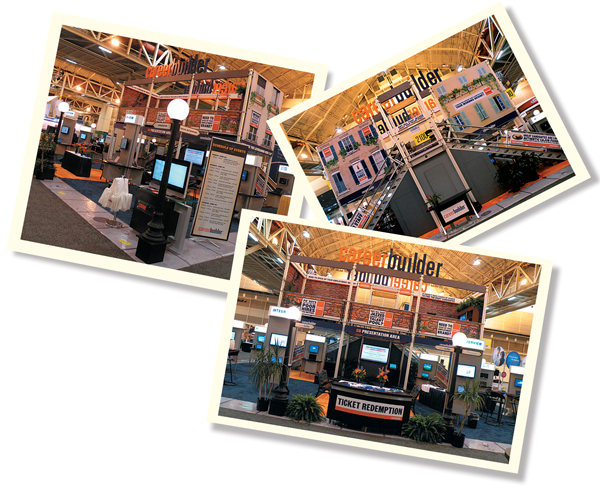 A 3-D box-shaped pre-show mailer that went to 5,224 registered attendees contained branded Mardi Gras beads. Attendees spotted wearing the beads on the show floor received a prize.
To bolster the campaign's success, CareerBuilder produced videos comprising pre-show promos, interviews and coverage of in-booth activities and the VIP party, and posted them to the SHRM microsite. In addition to capturing everything that happened at the expo booth, CareerBuilder's team of on-site bloggers and social media strategists attended sessions to share insights for those who could not make it to New Orleans.
The first video clip posted to the microsite, featured "Top Chef" Kevin Malarkey. He enticed attendees to "bring their appetites" to the show floor, and provided the date and time of the "Top Chef" demo, as well as CareerBuilder's booth number.
Credits: Video Production: P3 Media Works | Booth construction: Design Centrix | Design: Hyemi Kim | Copy: Mary Lorenz